"Battle Royale" Update - now in game
20 Nov 2017 01:01 PM UTC
Soldiers!
In this game update we are going to introduce a new PvP game mode: "Battle Royale", overhauled and improved weapon models, as well as a new rank, weapons and achievements.
New PvP Game Mode: "Battle Royale"
Warface has a broad variety of game modes available — some are more conservative and classic, suited to the 5-on-5 scenarios, whilst some others are more dynamic and perhaps even, arcade. With Battle Royale, we wanted to create something on the thin verge between the two, and here you have it: quick-paced combat with an element of the unknown — you never know which gun you're going to get, with action taking place on the largest PvP map ever seen in the game.
Main Features
The game mode takes after the most classic scenario: each man for himself.
Dynamic engagement, that always keeps you on the move — linger a minute too long and you'll be caught outside the shield and left for dead.
An enormous new map with plenty of areas to explore. No round will ever feel the same — you never know where you're headed until the "Zone" hits.
Plenty of achievements to unlock!
Weapons
Desert Tech MDR-C
A new Engineer weapon will become available this month – Desert Tech MDR-C. This weapon comprises all the perks a compact, mobile Engineer primary should have: easy to control, quick to reload, safe to rely on – it'll take 'em down.

Achievements:

Kill 10000 enemies with Desert Tech MDR-C or its gold version

Kill 10000 enemies with Desert Tech MDR-C or its gold version

Make 999 kills with Golden Desert Tech MDR-C
New Elite Crown weapons
Warface is an ever-evolving game and as such, we need to ensure all of the rewards are well worth the risk and cost. R16A4, PEG-7, CCR CQB, TWM X308, ZX84 USP – all of these all-time favourites will now have an Elite Crown edition with improved specifications.
These weapons will be obtained temporarily (random duration) in the new Random Boxes for Crown Points.
CCR
Recoil has been improved in the automatic mode. A golden variant has been added with an appropriate achievement (stripe). Will become available for testing at a later date.
Westerner 1887
The shotgun has received an overhaul: damage drop at greater distances has been decreased, damage multiplier to hands increased, rate of fire has also been increased.
Visual overhaul
We've reworked the textures of the following weapons to make them look (and feel!) even better.
The following weapons have been reworked:
Rifleman primaries: LMG240, LMG4, F1000, F1000 Urban Camo, LMG240 Elite and EXAR-H Elite
Medic primaries: Richmond 870 RIS, FAS-12, Johnson 1957, MSG 500 Custom, MSG 500 Custom Elite
Engineer primaries: PDW 19, PDW 19 Winter Camo
Sniper primaries: RBA SR58 SPR, M917-SR, R107, Q-88, Q-88 Wilderness
General: Festive Fireworks
Before
After
Before
After
All weapon stats of the mentioned guns have remained unchanged.
MS Radek weapon skin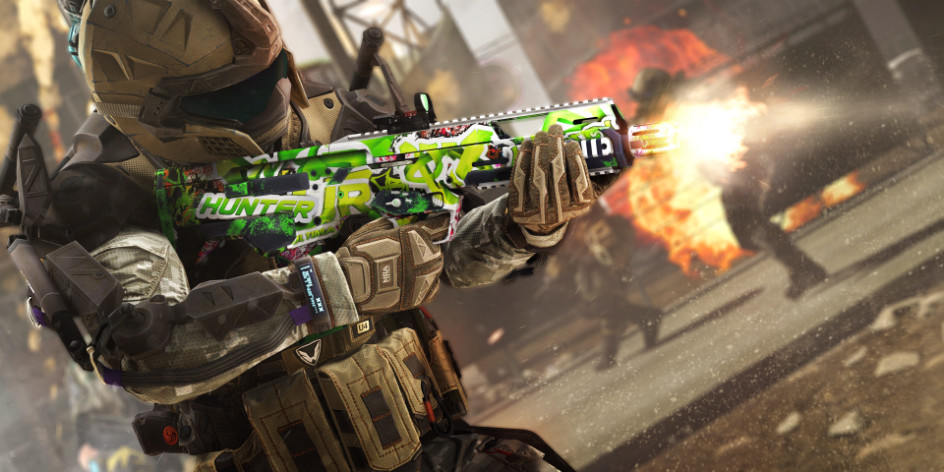 | | |
| --- | --- |
| | The update will also introduce a new weapon skin based on a design of a Warface player - Alex Vovk. The skin is available for Warface Dollars and Kredits and 15000 kills with the "Ultimate Hunter" MS Radek (a special version of the weapon, not the skin) guarantee a special stripe - "Ultimate Hunter": |
Repair cost readjustment
The repair cost for some items was readjusted. The changes will apply to already purchased items till the end of November, meanwhile the newly-bought ones will already have readjusted repair cost. You can see the difference in the table below:
---
Plate Vest

Komodo Vest

Scout Vest

Rhino Vest

ATLAS gloves

- 18%

- 44%

- 18 %

- 44%

- 50%

Spy Shoes

Frontline Vest

Atlant Vest

Hawk Vest

Strikeforce Vest

Python Vest

+ 63%

- 80%

- 18%

- 44%

- 18%

- 44%
---
New Rank
| | |
| --- | --- |
| | The update will also introduce the rank of 88 -- the Mughal, Lt. General of the Heralds of Death squadron. You can learn more about it here. |
Game mode access now depends on rank
As of this update, game modes will become available to players gradually, unlocked with rank.
1-13th ranks will be able to access all maps in the following game modes: "Team Death Match", "Free For All", "Bag and Tag", "Blitz".
Upon reaching the rank of 13, players will be able to access the following game modes: "Plant the Bomb", "Capture" and "Domination", "Storm" and "Destruction".
Other changes
Engineer vests have been rebalanced: Anti-Sniper Vest and Plate Vest armor points have been reduced by 15. Komodo Vest armor points have been increased by 10. Warlord Engineer Vest will now additionally provide 10% protection from explosives but restores only 4 armor points (instead of 8).
Special Operation: "Blackout". AI resistance has been rebalanced at the last two checkpoints.
The Halloween event is over: daily login rewards have been returned. Event loading screens, music and "Cemetry" map have been removed.
Ctrl+V and Shift+Insert pasting has been disabled.
Contracts menu has been visually changed.
Stun sound effects were added.
BUG FIXES
Otto W3000: the logo reflection on the right side of the gun has been fixed.
Westerner 1887: fixed the issue with character's hand moving through the texture of the weapon in 1st person view.
M95AR: fixed bugged textures on the right hand during cooperative actions (team climbing, etc) with other players.
R16A4 Custom: removed a range of bugged textures and visual bugs when selecting / deselecting the weapon in 1st person view.
F1000: fixed a bugged texture in 1st person view, as well as the inverted texture in 3rd person view.
Special Operation: "Earth Shaker"; dead enemies no longer fall through the holes for turret deployment.
Special Operation: "Blackout"; fixed various areas players could get stuck at.
Special Operation: "Blackout"; fixed a specific spot that granted invulnerability to the player occupying it.
PvE, "Africa"; removed the object hanging in the air.
UI: progress tracking for 98%+ is now displayed correctly.
Fixed the bug with grenades not exploding at a specific spot in the Safe House.
---