September Update – now live
06 Sep 2018 08:25 AM UTC
Soldiers!
The September update has just gone live. Among other things, it brings improvements to the ranked matches and sniper rifles, provides in-game voice chat, adds a new CZ 75 Czechmate Parrot pistol and another weapon camo series.
Disclaimer: some information provided in this article refers to the work in progress and is subject to change.
---
Ranked Matches
Our vision for ranked games has always been centered around bringing them as close to the competitive scene as possible. As such, we are happy to introduce a number of changes to the ruleset. They are aimed at improving the tactical gameplay and making this game mode overall more engaging. Apart from that, these changes will also make game classes stand out better in team framework, and grant them an ability to have a greater impact on how the team performs as a whole in its regular interactions.
Ranked Matches 2.0 is a crucial stage. Thus, we have been and will continue to be extremely thorough and responsible with the changes. In order to make it easier for you to navigate through the new adjustments, we have divided them up in several parts, and each will be addressed in a separate article. Some of these changes have already reached final testing, while others will be reworked over time.
---
RM: Test Season
During the course of the first week after the update goes live, there will be a test season of ranked matches. Throughout this stage, you will be able to earn Warface Dollars, Crowns and Boosters, while finishing the season in any league will award you additionally with a "Lion" mark.
We will be monitoring the results, and future developments will be announced separately. There will either be a second testing season or a full switch to the new ruleset.
Please note that the test season can be interrupted at any time prematurely, and players may have their leagues changed without prior notice.
Make sure to check out the new ranked matches and let us know what you think!
---
RM: Progression changes
| | |
| --- | --- |
| Will appear in the test season | Will appear in the nearest regular season |
In order to climb the leagues, you will have to win matches. The higher you climb, the more persistent you will have to be. At the same time, if you lose a match, you won't lose your progress right away — instead, you will have a chance to 'retaliate', winning a series of games. If you don't use this opportunity and keep losing, you'll roll back to a lower league.
| | |
| --- | --- |
| League | Victories required to climb up |
| 22 - 20 | 1 out of 2 |
| 19 - 15 | 2 out of 3 |
| 14 - 8 | 3 out of 5 |
| 7 - 1 | 5 out of 7 |
Status: final testing. Ranked system settings may change throughout the test season depending on how hard it is to progress through the leagues for the players. Player leagues are subject to change during test season without prior notice.
RM: Equipment restrictions
| | |
| --- | --- |
| Will appear in the test season | Will appear in the nearest regular season |
In pursuit of making ranked games more competitive, we also have to restrict specific gear that's prohibited in the official tournaments. As such, items that are eligible in ranked matches are marked in your equipment menu. If you equip restricted items, you will not be able to join a queue for a ranked game.
Status: postponed until full overhaul. We will need some more time to fix an error related to the new system and matchmaking. This time will also be used to monitor in-game data and player feedback on restricted gear to ensure a fair and competitive environment.
RM: Rewards
| | |
| --- | --- |
| Will appear in the test season | Will appear in the nearest regular season |
Following up on the changes, we will also be increasing the traditional rewards for advancing leagues: Crowns, Warface dollars, boosters and so on. Not only that, but we'll also be adding some new rewards alongside awesome achievements!
The ultimate reward for reaching the first league in a regular season will be a special seasonal camo series for 5 guns (and a knife!): MSBS Radon assault rifle, Sidewinder Venom shotgun, PP-2000 PDW, ORSIS T-5000 sniper rifle, M1911A1 pistol and on top of that, a Jagdkommando knife.
Weapon camo series are named after gemstones, and each nature season will have its own color. For example, the autumn one will be Amethyst . You will only be able to unlock it for playing ranked matches from September to November. Please note that if you've previously claimed a camo series, you cannot obtain it a second time even if you win the following year.
Apart from that, we will be adding 14 unique achievements, 12 of which can be obtained exclusively for advancing to the first league during a regular season. Each month has its own achievement, so don't miss a single one or you'll have to wait until the next year to try again!

Forward to the victory!

You can not beat me!

Soldier of Fortune

True

?

owboy


Elusive Avenger

Legionnaire's Strength

Viking Fury

Samurai Spirit

Death Mask

Hardy Knight

Unbroken Fighter

A true King



Ranked Games Season
Ranked Matches participant's mark




Born to Win
Top RM fighters badge
Status: pending test season results. We'll need more information in order to assess the rewards for advancing leagues and completing seasons.
Disclaimer: some information provided in this article refers to the work in progress and is subject to change.
---
Voice chat
Note that the voice chat is available for Ranked Matches and Special Operations only. And of course in PvP only your teammates will hear you: your enemies will not intercept your messages.
Please read our dedicated article to learn more.
---
CZ 75 Czechmate Parrot
"Parrot" is already in store!
CZ 75 Czechmate Parrot will help you outsmart your opponent five moves ahead in a pistol duel. The "Parrot" is highly efficient at close to medium ranges, and is bound to earn the hearts of those fond of PvP. Its high headshot damage is enough to take down even opponents wearing helmets, while the 1.2x C-More scope and its reticles are quite manageable in close quarters as well.
This gun can be found in Random Crown Boxes and Random Kredit Boxes in two variants: regular and golden. Golden CZ 75 Czechmate Parrot has higher damage, rate of fire and magazine capacity values. Drop rates are equal in both boxes.
Please note that Random Crown Boxes can be purchased only by the players that have reached Rank 11.
---
Reworked sniper rifles
Following the rebalance of shotguns and SMGs we have reworked 11 sniper rifles: Walther WA 2000, Alpine, AMP DSR-1, Tavor STAR-21 Navy Blue, SVD, M16 SPR Custom, SIG 550, ACR SPR, H&K SL8, XM8 Sharpshooter and AWM. We mainly rebalanced their minimal and maximal damage.
Please read our dedicated article to learn more.
---
"Desert Snake" weapon skins
"Desert Snake" line-up includes camos for assault rifles Beretta ARX160 and IMBEL IA2, machine gun PKP Pecheneg, shotguns MAG-7, Fabarm P.S.S.10 and Fabarm S.A.T. 8 Pro, SMGs CZ Scorpion EVO, Desert Tech MDR?C, PP-19 Bizon and Tavor CTAR?21, sniper rifles AX308, Calico M951S and M40A5, pistol CZ 75-Auto, Mateba Autorevolver and Jagdkommando knife.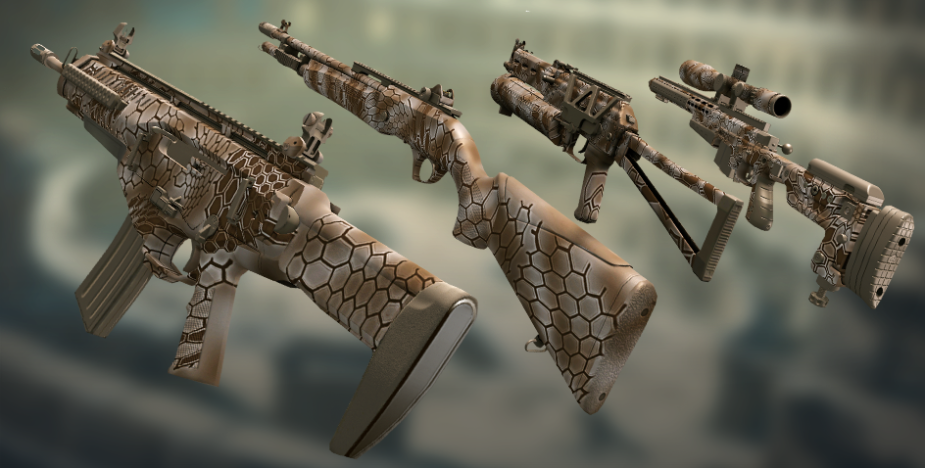 Please read our dedicated article to learn more.
---
Miscellaneous
Client-side security optimizations. Details will remain undisclosed for security reasons.
New countermeasures added against smoke screen / flash grenade abuse within the game client and launcher.
Battle Royale: Mojave has replaced Exclusion Zone.
Kriss Super V SMG: stats changed. Reduced the time to enter and exit the aiming mode, increased damage to legs and arms, reduced the rate of fire.
Improved visuals for some of the golden weapons in the game.
Custom rooms: added the observer feature to the interface. Observers do not count as valid players in rooms and active matches.
Thematic variants of "Vault", "Hangar" and "Oil Depot" have been replaced with the basic ones. Expect them next year!
Vote changes: cannot initiate a voting session against players that are in your friend list.
Added secret achievements.
Ranked matches rewards: weapon skins for semi-automatic sniper rifles in Warface Random Boxes have been replaced with other weapon skins.
Nvidia Apex Settings have been removed from the game client.
Warface Box icon containing resurrection coins has been changed.
---
Bug fixes
All SVU-AS sniper rifle variants: fixed animations for particles emitted when fired.
AK-47 and its golden variant: fixed hand position in first-person view.
Kriss super V and all M14 Crazy Horse variants: fixed hand position in third-person view.
Remington 870 RAS: fixed attachment positions.
M16 SPR Custom and its camo variant: fixed melee attack (shove) animation in close quarters.
Micro-Roni CAA Warface Random Box: localization error fixed.
Fixed an animation error occuring due to sharp character rotation (90> degrees) in spectator mode after death.
Fixed a series of errors related to co-op interactions.
Fixed the error related to bomb / weapon interactions (when both are in vicinity).
Fixed the error related to primary weapon selection.
Fixed the error causing firing animation to interrupt reload animations.
All FN F2000 variants: fixed hand position in first-person view.
Fixed the error causing interference with PvE mission launches.
Fixed textures for "Exclusion Zone", "Residence", "Keep", "Lighthouse".
Fixed textures for several PvE missions.
Fixed spawn points in several PvE missions.
Fixed textures and object positions in Special Operation: Pripyat.
Fixed the weapon scrolling error.
Fixed room chat errors.
Fixed incorrect positions following a smoke grenade deployment on "Deposit" (map).
Fixed visual artifacts in first-person view when using Kriss super V with specific attachments.
"Yard" and "Trailer Park" (maps): fixed positions granting unfair superiority.
Fixed AI behavior when using grenades in PvE missions and special operations.
Fixed the golden SIG Sauer P226 attachment icon.
Fixed the reticle for SIG Sauer P226 (regular & golden).
Fixed issues with long item names in general interface.
Fixed the bug with disappearing enemy units in several PvE missions.
Gepard GM6 rifle: default attachment changed from standard 5.5-zoom scope to Schmidt & Bendet v2 4.6-zoom scope.
Walther P99: melee attack (shove) animation has been resynced with the actual hit.
Fixed the AK-47 "Flor de Muerto" icon.
Fixed the error causing PvE missions to disappear from the list.
Cobray Striker, Fabarm P.S.S.10, AS "Val" and MSBS Radon: repair costs fixed.
Exclusion Zone: fixed achievement localization errors for the 1st and 3rd places.
Brain Scorcher achievement: localization fixed.
Fixed the error causing the contracts to display incorrectly.
"Palace" (map): fixed the area designation tooltip.
Game client: game sessions required for in-game events and promos no longer disappear.
Changing classes in a custom room when the option is disabled no longer brings up an incorrect tooltip.
FN Five-seveN "Punisher": added correct information about additional damage values to cyborgs.
Known Bugs
Voice communication: PUSH-TO-TALK settings may sometimes change to VOICE ACTIVATION until the end of the match.
PvP: "Bag and Tag": can't invite friends to this mode.
Disclaimer: some information provided in this article refers to the work in progress and is subject to change.
Happy gaming!
---