Direct sale: Micro-Roni CAA
14 Feb 2019 08:49 AM UTC
Soldiers!
Time for the marvel of engineering to enter the direct sale line-up. Obtain regular Micro-Roni CAA by the 18th of February!
---
Inspiration
CAA Tactical is an Israeli manufacturer specializing in tactical accessories, upgrades and tools aimed at the armed forces, law enforcement and general consumers alike.
The latest Micro RONI model introduced at SHOT Show 2018 features an aluminum and polymer build and unlike similar conversion kits, it does not require sidearm disassembly. Installation takes no more than 5 seconds in a perfect case scenario and enhances the firearm significantly with a Picatinny rail, custom grip, folding adjustable stock and ambidextrous switches for universal control.
Once the sidearm is upgraded into a carbine with the RONI stabilizer, it benefits from greater stability and range owing to the longer barrel. Similar conversion kits may in time prove a reliable replacement to ARs carried by law enforcement, providing superior firepower prior to the arrival of specialized units.
---
In Warface
Micro-Roni CAA personal defense weapon is the perfect pick for any game mode thanks to its considerably high damage, soft recoil and a 40-round mag capacity. Its stability yields some impressive results when fired 'from the hip'.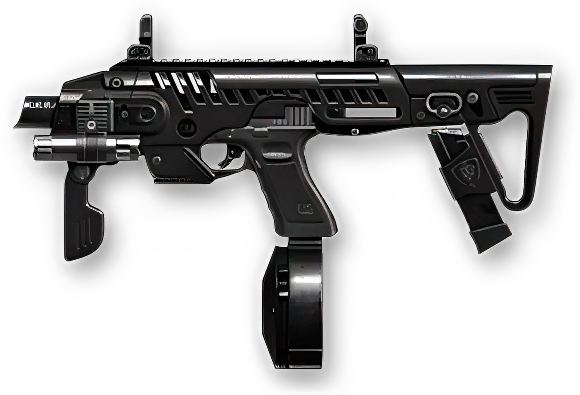 The PDW comes with several attachment slots and three unique upgrades:
Micro-Roni CAA Laser Grip - provides a considerable boost to 'hip-fire' accuracy, slightly reduces recoil and crosshair sway
Micro-Roni CAA Custom Grip - provides a slight boost to 'hip-fire' accuracy, reduces recoil and crosshair sway
Hartman MH1 - 1.4x Fast-Zoom scope.
Landing killing blows with this machine will award you with custom achievements that can be pinned on your profile!


Perfect by design!
---