Direct Sale: Golden Steyr Scout + other offers
17 May 2019 09:03 AM UTC
Soldiers!
Reading your feedback regarding the shop updates we have noticed one thing you really wanted us to implement into the store, and here it is: the direct sale of Golden Steyr Scout.
[Direct Sale] Golden Steyr Scout
Steyr Scout weapon is truly a pro player's pick — a bolt-action sniper rifle that provides you with mobility and utility to hunt outside the standard boundaries. That is why you can often see eSports players using it in battles. Many sniper rifles have been created and implemented in Warface since then, yet for many Steyr Scout remains unmatched.

The golden version of the sniper rifle, apart from having slightly better stats, can give you a nice achievement for 999 kills. Tak a look at it:

You can purchase the Golden Scout directly for Kredits until Monday, May 20, 09:59 UTC. Hurry up!
[Boxes] Steyr Scout & Uzkon UNG-12
Alternatively, you can try your luck and get Scout from boxes, as well as a famous Uzkon shotgun, in store till May, 20.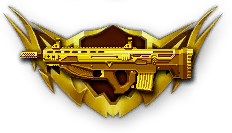 [Discount] Superior Body Skins
And to top this all up, a 50% on superior body skins for all classes.
See you in game!
---