Direct sale of Nuclear weapons
17 Jun 2019 09:31 AM UTC
Soldiers!
How about a summer to trip to Chernobyl? Heed the call of Pripyat and arm yourselves to the radioactive teeth!
"Nuclear" Beretta ARX160, MAG-7, Honey Badger and Remington R11 RSASS are available via Direct Sale till around 11:00 CEST (9:00 UTC) on the 19th of June.
---
Nuclear Beretta ARX160

As far as rifles of this class go, it's practically a rule of thumb that high damage translates into high recoil, yet it's far from the case here – ARX160 manages to keep it down to an easy-to-control medium. This stacks up neatly with an impressive rate of fire, accuracy when aimed, and effective range – not something to disregard in a weapon that aspires to be universal for any user or environment.

---
Nuclear MAG-7

Despite its size, MAG-7 has one of the highest damage values in the game — it's a pump-action shotgun, after all. At the same time, the weapon is not limited in accuracy, and its effective range remains highly competitive. The lack of substantial recoil makes MAG-7 great for landing subsequent shots on your target — should they need it.

---
Nuclear Honey Badger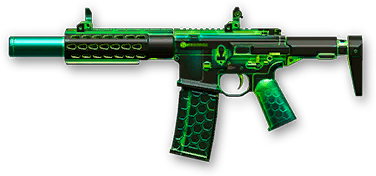 Honey Badger is a superb personal defence weapon, and thus is best used in close quarters combat. Built upon the time-tested AR-15 configuration, the PDW features an integrated suppressor, thus making it a fine pick for stealthy missions.

---
Nuclear Remington R11 RSASS

Remington R11 RSASS delivers high damage at an incredibly high rate of fire compared to its peers. The key advantage is the effective range - you can be sure you'll be landing the shots with full damage even firing across the longest ranges like Hawkrock's windows, aka the "sniper nests", and any other long-range encounters.

---
This is it, the apocalypse!
---