Global update "Mars" goes live
19 Jun 2019 09:54 AM UTC
Soldiers!
The global update "Mars" has already landed on Warface servers. The time has come to set off for the Red Planet! A new SpecOp, "Armageddon" equipment, "Ares", "Phobos" and "Deimos" weapon series, Stoner LMG A1, gun tweaks and more are waiting for you. Be the first to dive in!
---
Special operation "Mars"
Experience new emotions in SpecOp "Mars"! For the first time in the game's history the combat will take place on the Red Planet yielding brand new gameplay and unique experience. Learn more
Here is a short list of new game mechanics.
New location and scene — Mars.
In line with the plot of the Special Operation "Sunrise".
Remote SED control.
New guns: an energy weapon ARCUS and a MARS Defibrillator.
Solo tasks in certain zones.
Heaps of unique achievements for mission completion.
"Ares" weapon series
Upon completing the Special Operation "Mars" you can get your hands on a unique weapon of the "Ares" series delivered straight from the Martian laboratories! The set includes one gun for each class. Mind that "Ares" is not a camo but a tactical kit that changes the weapon's geometry and improves its performance.
Don't forget that landing kills with the "Ares" weapons will grant you custom stripes!
"MARS" ACHIEVEMENTS
The most prominent Mars conquerors will be awarded with 20 custom achievements. Only the combination of individual efficiency and excellent teamwork will yield you all stripes, badges and marks!
---
"Armageddon" battle pass
Please note that "Armageddon" BP will go live soon but not today. The event is now at the final testing stage. MARS is a large-scale and technically difficult update. We launched it a day earlier to make sure it is stable before adding the Battle Pass as additional load.
"Armageddon" equipment
We are glad to present amazing gear that will become available for "Armageddon" Battle Pass participants upon completing weekly mission block tasks. The line-up includes all types of equipment items with class-specific stats and provides a set bonus upon equipping all items of the series.
Typhoon F12
In the previous three Battle Passes you crafted mighty class-specific arms. Riflemen, Engineers and Snipers can already showcase excellent primaries. Should Medics be left burning up with envy? Of course not! The global update features the automatic shotgun Typhoon F12 that will top up the craftable weapon line-up.
Just like the rest of its peers the rifle boasts a set of specs due to which it can compete with other popular guns in Warface. We will closely follow Typhoon F12's stats for possible tweaks.
"Deimos" and "Phobos" series
The update also brings exclusive "Phobos" and "Deimos" series that will be available for participants of "Armageddon" upon completing certain number of weekly missions.
Have a look at the slider below to see "Deimos" guns named after one of the natural satellites of Mars. By the way, the Greek God of Terror, the son of Ares, had the same name.
The holders of "Deimos" rifles will have to make 10 000 kills to get themed stripes.
Moreover, those wielding these amazing weapons will be able to earn particular achievements: deal over 9000 damage and receive the "Deimos Demolition" badge; kill over 1000 enemies to obtain the "Deimos Eliminator" badge; earn any 4 of Deimos elimination achievements to be awarded with the "Deimos Collector" badge.
The other weapon series is named for the second satellite of Mars, Phobos, who in Greek mythology is the twin brother of Deimos and the personification of fear.
As for the "Phobos" series, annihilate 15 000 enemies to get a themed stripe.
"Armageddon" smoke grenade
We have prepared another new feature for the BP participants: "Armageddon" grenade boasts a unique visual effect that resembles whirlwind. Make your enemies die of a surprise heart attack!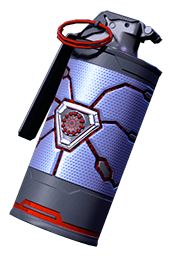 "Armageddon" achievements
"Armageddon" also offers plentiful achievements: 7 badges, 17 marks and 5 stripes that you can proudly pin to your user profile to boast on the forum or in the game. Obtain "Armageddon" access and complete various missions to get your hands on them!
---
New content
Stoner LMG A1
Stoner LMG A1 is a top-notch assault rifle. The gun boasts an excellent accuracy-damage ratio especially while aiming. Besides, fast reload makes Stoner LMG A1 stand out among other weapons of the same class as it takes the operator only 4 seconds to change the magazine and get ready to fire.
Moreover, additional damage to limbs and comfortable recoil can be enumerated among the arm's main merits.
---
Content changes
Weapon tweaks
The global update MARS will bring tweaks to certain primary weapons for all the classes. Have a look at the table below to discover what combat stats are revamped.
Please note that all the versions of the rifles will be subject to changes, unless stated otherwise.
Hover the cursor over

to see the tweaks
---
Good luck in battle!
---