Direct sale trio
03 Jul 2019 08:51 AM UTC
Soldiers!
When the challenges ahead are too complex, preparation is the key to success. Boost your arsenal with the following weapons that will be available in store till around 11:00 CEST (9:00 UTC) on the 5th of July:
Regular and Golden MAG-7 via Random Kredit Boxes and regular MAG-7 via Direct Sale
Regular and Golden M249 Para via Random Kredit Boxes and regular M249 Para via Direct Sale
Golden FN SCAR-H via Direct Sale
---
MAG-7


Despite its size, MAG-7 has one of the highest damage values in the game — it's a pump-action shotgun, after all. At the same time, the weapon is not limited in accuracy, and its effective range remains highly competitive. The lack of substantial recoil makes MAG-7 great for landing subsequent shots on your target — should they need it.



---
M249 Para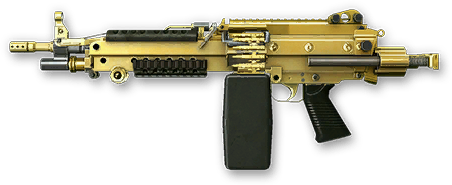 M249 is an air-cooled and gas-operated machine gun. With its quick-change barrel Para allows the gunner to quickly change overheated or jammed barrels.



---
Golden FN SCAR-H

FN SCAR-H lives up to its reputation of carrying a full-powered cartridge with a high damage value accompanied by an excellent effective range, and yet it carries on the legacy of the renowned Belgian arms manufacturer, providing superb accuracy and a competitive rate of fire.



---