Dominant guns in store
08 Jul 2019 11:08 AM UTC
Soldiers!
Dominate and conquer with the following weapons available in store till around 11:00 CEST (9:00 UTC) on the 10th of July:
Regular and Golden Marlin 1894 Custom via Random Kredit Boxes + Regular Marlin 1894 Custom via Direct Sale
Regular and Golden AX308 via Random Kredit Boxes + Regular AX308 via Direct Sale

Golden ACR CQB via Direct Sale

Golden M16A3 Custom via Direct Sale
---
Marlin 1894 Custom


Marlin 1894 Custom boasts a high range of fire and excellent aiming plus hip accuracy. It packs a superb punch and at close range knocks down any enemy if the first impact fails to kill them.



---
AX308


AX308 is an absolute ace in several criteria: highest damage, one of the highest penetration and range values, superb rate of fire and lastly, undisputed accuracy. Having said that, as a heavy sniper rifle, it does have considerably high recoil that takes some getting used to.



---
Golden ACR CQB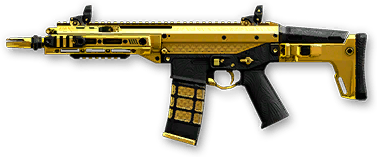 This beautiful weapon will no doubt peak the interest of collectors and fashion connoisseurs! Apart from its stunning looks underpinning excellent taste and high status of the bearer, ACR CQB will prove to be no less deadly than other monstrous machines of war used by Engineers.


---
Golden M16A3 Custom

M16A3 is considered to be one of the classic high-tier performers: superb damage and effective range is an altogether powerful combination. The accuracy – as with any top-tier AR – remains unparalleled in the aiming mode, however M16A3 also retains a decent share of its accuracy when fired from the hip, without aiming down the sights.



---