Terror-forming shop update
11 Feb 2020 03:06 PM UTC
Soldiers!
More terror, more power, more possibilities...
The following line-up will be available in store till around 9:00 UTC (10:00 CET) on the 14th of February:
Direct Sale of "Deimos" versions (Kredits): Glock 18C, M249 Para, Saiga Bullpup, Honey Badger, DSA SA58 SPR
Kredit Random Boxes: Stoner LMG A1, Thompson M1928, Truvelo CMS 20x42 mm, Tavor TS12 Custom
---
Special Highlight: "Deimos" Honey Badger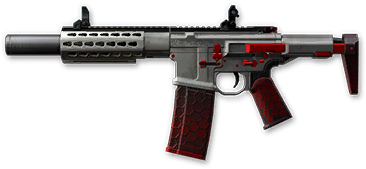 "Deimos" guns are named after one of the natural satellites of Mars. By the way, the Greek God of Terror, the son of Ares, had the same name! Those wielding these amazing weapons will be able to earn particular achievements: deal over 9000 damage and receive the "Deimos Demolition" badge; kill over 1000 enemies to obtain the "Deimos Eliminator" badge; earn any 4 of Deimos elimination achievements to be awarded with the "Deimos Collector" badge.