Leprechaun's shop update
16 Mar 2020 12:35 PM UTC
Soldiers!
The Feast of Saint Patrick is just around the corner. So it's time to get busy! And what gold-lover would you be without shiny weapons?
The following line-up will be available in store till around 9:00 UTC (10:00 CET) on the 18th of March:
Direct Sale of golden versions via Kredits + 15% discount: Fostech Origin-12, Desert Tech MDR-C, CZ Scorpion Evo3 A1, Steyr Scout, M16A3 Custom, Tavor CTAR-12, M14 Crazy Horse, Tactical Axe, Glock 18C, CZ 75-Auto
---
Golden Fostech Origin-12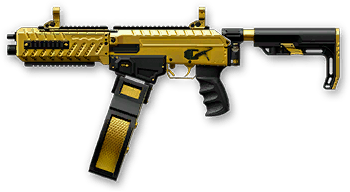 Origin boasts amazing RPM, steady damage and above the average accuracy even at large distances. On top of that, it offers a large clip size holding twenty bullets and high reload speed. The combination of these characteristics does not only make Origin-12 an ideal candidate for PvE missions but also allows for top performance in PvP.



---
Strike gold!
---