Battle Pass "Mutiny": Unique Rewards
11 Sep 2020 01:17 PM UTC
Soldiers!
We would like to tell you about some new items that will appear in the September update - unique rewards of the Battle Pass "Mutiny" that will be launched right after the end of the Battle Pass: Season 0. The new global operation will feature more charms, unique skins, brand new weapon series, and themed achievements.
---
Weapon Charms
The line up of available weapon charms will be expanded with new versions. Decorate your favourite guns with these stylish accessories to give their looks a fresh coat of paint and attract your enemies' attention in battle. Charms are a special weapon accessory offering unique animation and emphasizing the status of the owner of a cool weapon. Try and collect them all - they will grant even more customization options for your favourite weapon models!
Gangster Token Сharm
Pitbull Сharm
Police Badge Сharm
Cartel Mark Сharm
Dog Tag Сharm
It will be possible to decorate weapon models listed below. As new sets appear, the list will be expanded with guns. At the same time, each new charm set can be used with the arms from the previous list.
Rifleman
АК-12;
SAI GRY AR-15;
F90 MBR;
CZ 805 BREN A2;
Cobalt Kinetics EDGE Rifle;
АК "Alpha";
HCAR;
H&K 121;
Howa Type 89 Custom.
Medic
Kel-Tec KS7;
SAP6;
Uzkon UNG-12;
Fabarm XLR5 Prestige;
Marlin 1894 Custom;
Typhoon F12;
Typhoon F12 Custom;
Crye Precision SIX12;
Chiappa Triple Threat.
Engineer
АМ-17;
Uzi Pro;
Kriss Super V Custom;
LWRC SMG-45;
Tavor CTAR-21;
Cobalt Kinetics Stealth Pistol;
SIG MPX SBR Custom;
Thompson M1928.
Sniper
SV-98;
Orsis T-5000;
Truvelo CMS 20x42 mm;
CDX-MC Kraken;
Cobalt Kinetics Twenty-Seven;
Dragunov SVU-AS;
AX308.
---
Body Skins
The first season of the Battle Pass codenamed "Mutiny" will give its members the opportunity to earn tons of rewards. The body skin set will be especially valuable. A character who has been recruited for the "Peacekeeper" special purpose unit will receive the overall sprint distance bonus of up to 50%.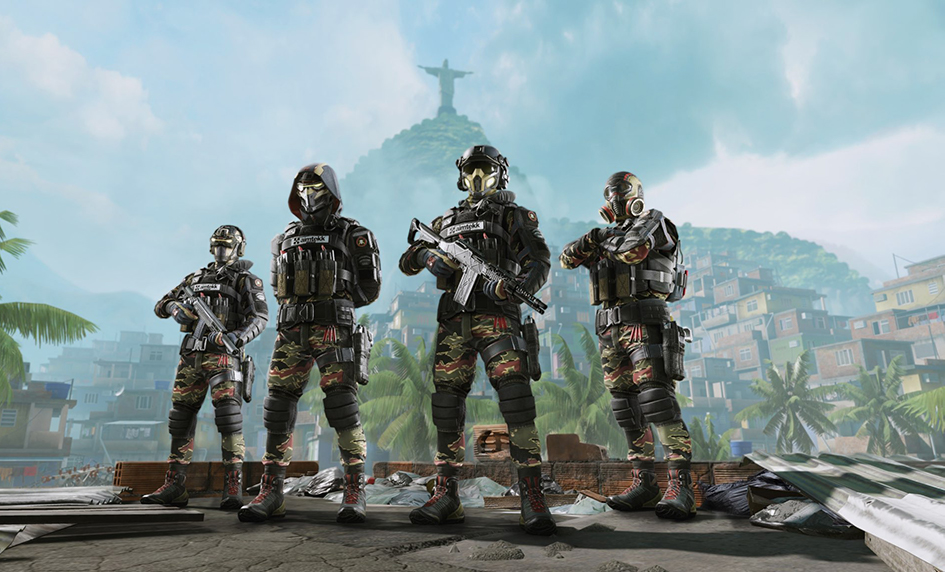 The training of the "Peacekeeper" unit soldiers meets all the requirements of complex operations to fight against leaders of criminal groups. Practical armor and discreet looks of the squad are ideal for solving tactical tasks and will look appropriate in any conditions, during raids to Pripyat or a marathon on "Cold Peak".
New body skins are easy to get - the reward will be granted to premium access holders when they reach level 30, 50, 70, and 90 in the Battle Pass "Mutiny".
---
"Guardian" Weapon Series
Do you only fight on the side of the good guys? Then the "Guardian" series is definitely for you! Employing these weapons, you can easily put things in order in any mission by neutralizing dangerous opponents and preventing sabotage.
The "Guardian" weapon models have a discreet appearance - camouflage colors with special symbols. They fit the new body skins perfectly. The arm series will scare off curious onlookers and highlight the cool temper and proud heart of the weapon owner.
By eliminating opponents with the "Guardian" weapon series, you can get a unique badge, mark and stripe.
---
"Rogue" Weapon Series
"Mutiny" is a great chance to show your rebellious spirit and get armed with big and dangerous guns. The looks of the new line up are inspired by the confrontation between street gangs that do not only prove their superiority in battle, but also demonstrate it in their own way by decorating the occupied territory with recognizable symbols.
The series includes only powerful models for all classes: primary and secondary arms as well as melee weapons.
By killing opponents with the "Rogue" arms, you can earn a weapon expert stripe!

---
Battle Pass "Mutiny" achievements
The new Battle Pass is rich in one-off achievements featuring street gang tattoo patterns. Get all the distinctions to show others that you are not the one to joke with (in case somebody lives to tell a joke).
---
We will provide additional information and the Battle Pass release date in a separate publication.
Stand tall as it is the strength of the spirit that really counts.
---
Join our Social Media and don't forget to leave your feedback: