November Hotfix - 18.11.20
18 Nov 2020 08:27 AM UTC
Soldiers!
A minor hotfix to the current game version has been installed on the Warface servers, fixing the problem with DirectX 11 support. Check out the information and evaluate the changes in the game!
---
Technical improvements
DirectX 11 Support
The game client is featuring DirectX 11 support in a testing mode. It will help the system use modern graphics processors more efficiently and increase performance quality, solving a few problems caused by DirectX 9 at the same time. The game centre can automatically check which version of DirectX is supported by the player's computer at the moment — and open the corresponding application. Read details.
As soon as you launch Warface, the Game Centre will automatically choose a new version of Direct X and open the corresponding file. In case you need to change the version, please follow the steps below:
Open the game page in the "Game Centre".
Press a small arrow near the "Play" button in the Game centre and click "Choose settings". Check or uncheck the "DirectX 11" button. (depending on your choice)
Press "OK".
NVIDIA Reflex
Along with the DirectX 11 support, Warface players will also enjoy the brand new NVIDIA Reflex technology decreasing system delay, which can appear between the moment you press the key and its reflection on the screen. You can enable this technology in the the graphics setting menu.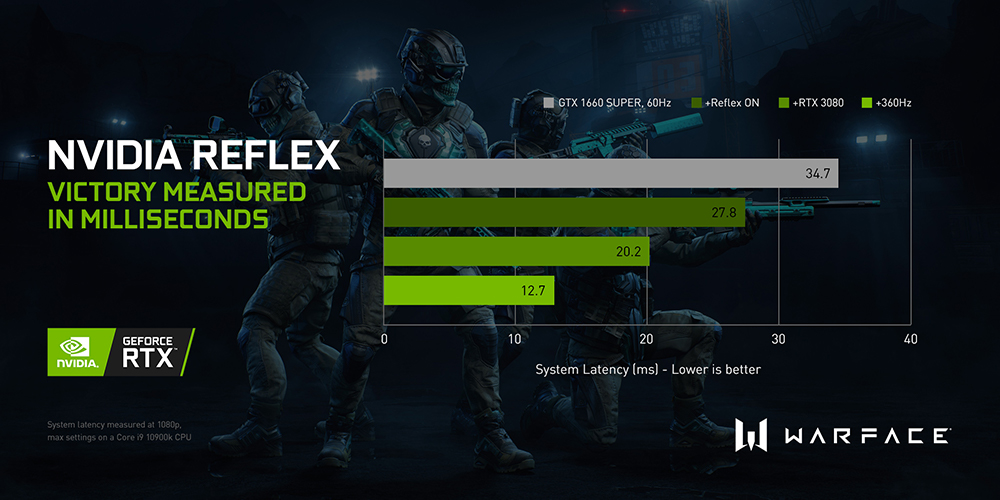 NVIDIA Reflex can work in the normal mode as well as the turbo one, which disables the energy-saving mode in order to work with higher efficiency. We will tell you more about the NVIDIA Reflex technology in a dedicated article.
Please note: before enabling NVIDIA Reflex in your game settings you should also update your graphic cards drivers to the latest version and restart your device.
---
Bug Fixes
Fixed some problems leading to crashes of the game client with the DirectX 11 support.
---
Make sure your game client is updated to the last version to prevent any new problems. The update will be downloaded automatically as you launch the game.
Good luck on the battlefield!
---